Our clinical success rate, excellent patient and dentist experiences
are testament to our Clinical Excellence and Quality Care
I am so grateful to be given the opportunity to share my experience as one of Dr Imran Azam's patients. Initially, I was referred for a rather tricky root canal next to my front tooth, which was highly visible. During pregnancy, this tooth had been excessively filled and was now causing problems. I was extremely worried that I would lose it and visited Imran for a consultation, worried not only for the procedure, but for the outcome too.
I am embarrassed at my lack of courage and irrational fear, which has developed over the years and I cannot stress enough how calming, non judgemental, kind and reassuring Imran is. He inspires complete confidence whilst talking in a language understandable to the average person with no medical knowledge. I visited three times for the procedure, a total of almost 5 hours in the chair and the result was a saved tooth, with things progressing exactly as he said they would. Each visit was a really comfortable procedure feeling absolutely no pain and where my well-being was cared for constantly. What was apparent was Imran's absolute passion for the work he carries out, along with his genuine empathy for his patients.
My point really is that this is the sort of confidence Imran inspires to his patients, that he absolutely knows what he is talking about, keeping up to date with latest research and procedures whilst never losing sight of his patients best interests. When visiting the hygienist recently, another lady waiting to see Imran was terrified. She mentioned someone had told her how lovely he was and how they nearly fell asleep during their procedures. I can absolutely second this!. He is amazing, not just technically, but his personal skills are second to none which can be rare when you are lucky enough to be treated by the very best"
After many decades of dental treatment, I found that the overall period of consultation by Dr Azam to be by far the most professional, comprehensive treatment for the retention of a back tooth that I have ever experienced. Dr Azam explained the process of treatment and carried this out over several weeks with complete clarity and confidence. He generated an interest in the whole situation of my teeth and what could and should be achieved which I have never experienced with any other dental practitioner.
The chance of undergoing dental procedure was replaced with a server interest to see how the project to improve my tooth would turn out. The whole procedure with Dr Azam over many weeks far exceeded any expectations or previous encounters with 'stereotype' dentists and dental procedures. I would recommend Dr Azam unreservedly to friends and family.
Although I am a dental professional I was still anxious of endodontic treatment but at my consultation appointment Dr Azam put me completely at ease by explaining the treatment in a concise, empathetic manner and at no point did I feel anxious or concerned about the upcoming appointments. The treatment itself was totally pain free and as initial visits were quite long I honestly have to say I was relaxed almost to the point of drifting off! The course of the treatment certainly met my expectations and a couple of years later I have had no unsettling consequences from it.
I am aware having been made so at the initial consultation that the treatment carried out is not guaranteed to save my teeth but at this moment in time it has certainly been very successful. I have no hesitation in recommending family, friends and patients of mine to Dr Azam and indeed I already have on numerous occasions. Imran I would like to take this opportunity to wish you every success with your new venture.
My experience with Dr Imran was extremely positive. Naturally I was nervous about losing two of my teeth. I was also very anxious about the procedure. I had come from the era where rubber masks with gas had been used as an anaesthetic for extraction therefore my nerves and association in the dental chair were one of extreme horror. Rest assured, Dr Imran was there every step of the way explaining each minute procedure with great detail, clarity and understanding.
This assured and dissolved any fear, tension and concerns that I had been carrying. One of my root canals was complicated yet Dr Imran calmly, patiently and masterfully achieved the results that we were both hoping for. Both root canals have been highly successful and I am very grateful to Dr Imran for his incredible skill, precision, expertise and dedication to doing a brilliant job. I would thoroughly recommend Dr Imran to anyone who is considering root canal treatment, with much appreciation and thanks.
Imran performed a re-root canal treatment on my lower second molar tooth as my previous root filling on the tooth was failing. As a dentist myself one may expect me to be quite comfortable having my own teeth treated on the other side of the chair. Unfortunately this is not the case with me and I would consider myself as quite an anxious patient! Meeting Imran was brilliant, his chair side manner is superb. Although I could relate to him in terms of 'dental jargon' he explained everything about my failing root canal treatment in easy to understand terms, helping to relieve my anxieties.
The first appointment was spent as a consultation, talking through the x-ray my dentist had sent, and informing me of how long the treatment would likely take and what he would be planning to do in order to get rid of the infection. This helped reduce a lot my anxieties prior to going in for treatment. The treatment was relaxed with Imran talking to me through each of the steps. I never felt I didn't know what was going on. The experience of having the 'rubber dam' was a pleasant one and quite comfortable.
My treatment took three visits due to Imran finding a 5th root canal and he only completed the treatment once he was confident the root canal system was completely free of infection. I am extremely happy to have been treated by Imran. He has done a fantastic job with my tooth and treated me as a human being; not just another tooth. Thank you Imran and team.
As a retired dentist I am particularly discerning as to who has access to my teeth particularly so with root canal treatment. I based my decision to see Imran Azam on the confidence that I have in Nick Ross and his enthusiasm for the skills of Imran. I researched Imran's qualifications and experience. I was reassured by his knowledge and enthusiasm after my first visit. I appreciated that my case was not completely straight forward but it has been most successful. I felt no pain at any stage and appreciated the explanations and commentaries along the way. I would have no hesitation in recommending Imran to my family or friends.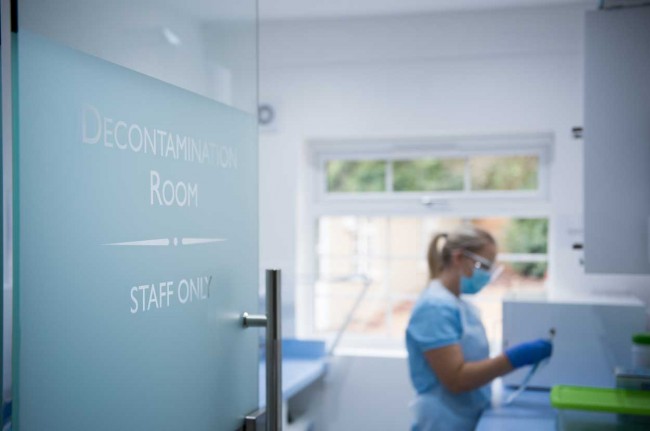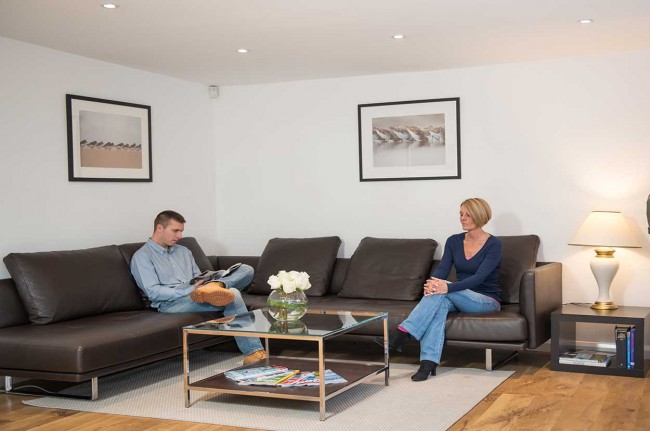 "I was referred for another root canal treatment. Imran was very confident in diagnosing that it was not in actual fact a dying nerve, but an unusual situation where the remnant of an old baby tooth was stuck in the gum, now working its way out. I was subsequently referred to Frimley Park Hospital to have it removed. The consultant there was somewhat dismissive that this was the case and I felt a sense of panic as I knew Imran would be right. On having a feel around, to her surprise she agreed that is was in actual fact as Imran had diagnosed. When arriving for the procedure, again there was some debate and again I kept insisting Imran was right resulting in those about to carry out the procedure calling a specialist and even someone from surgery to check. No surprise, they confirmed Imran's findings" – Julie Filllsell
I was very anxious that I was going to lose my front two teeth and have to have implants. I was really pleased to learn that my teeth were treatable. I was made to feel relaxed and reassured. The treatment was well explained and I fully understood what the problems were with my teeth. The treatment itself was strangely a relaxing experience! I felt comfortable and calm throughout. I experienced no pain or discomfort. The treatment fully met and exceeded my expectations. I would recommend Imran 100%.
My teeth had been causing me irritation for some time and I was referred to Dr Azam by my dentist. Everything was explained to me during the procedure which helped put me at ease and all follow ups have been with full care and attention. Having had the procedure completed I no longer have any problems with my teeth.
Today I attended an appointment for root canal re-treatment with Imran Azam. Before the treatment began Imran took time to explain what was involved. Through every stage he told me what he was doing which kept me reassured. I felt no pain at all and I have to say that even the injection was not as bad as I thought it would be. Many Thanks Imran if I need root canal treatment with you again I will not be worried at all.
The service provided was well explained and efficient. I felt comfortable for the entire appointment and felt reassured that the treatment provided was of an exceptional professional standard. Very friendly and made me feel at ease.
I was anxious about losing my tooth and also the proposed treatment as there was by no means any guarantee that it would work. The proposed course of treatment and the treatment options were very clearly explained several times. The treatment was totally carried out in a caring and empathetic manner, I was blissfully unaware of how uncomfortable and painful root canal treatment is, however, I am 100% sure that I was given the best care. Had I not had dental insurance I'm not sure that I would have gone ahead with it! Yes I would absolutely recommend Dr Imran to my friends and family! But in the nicest possible way I hope they never have to call on him!
Being an individual of declining years with health problems, especially breathing issues, when my dentist first referred me for root canal treatment, to save my tooth and stop the continuing pain I was experiencing, you can imagine my concern. The anxiety I faced was "do I lose my tooth, risk complications with my health issues or do I have the treatment?" what a dilemma to face at my age! After meeting Dr Azam who explained the option and how he would approach the procedure taking into consideration my health issue, I had the said treatment carried out. Throughout the treatment Dr Azam took great care to ensure I was comfortable throughout the process.
The experience was such that I have now had three unrelated procedures from Dr Azam which were all successful, which has meant that I still have my own full set of teeth without any ongoing dental issues. Also during these treatments and after them I suffered no health problems at all. If I needed any further treatment, I would have no problem of engaging Dr Azam to carry out the appropriate procedures or recommending him to friends and family.
Initially I was anxious not to lose the bottom extreme right tooth as it was next to a large space which was left after an abscess thus it was extremely important for me to retain my tooth for efficient eating. Any anxiety soon disappeared after treatment options were kindly explained with an emphasis on preserving the tooth if at all possible. From the moment of entering the surgery the calm friendly atmosphere was reassuring. This continued throughout the treatment where each stage was meticulously explained and discussed before and during the treatment which was surprisingly pain free compared to a previous root canal filling a number of years ago. I would not hesitate to recommend the treatment which exceeded all expectations.